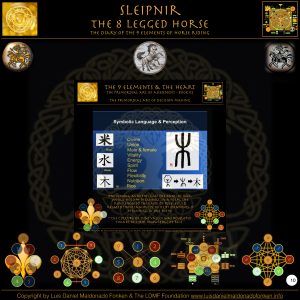 "How to create a language that every culture, religion, state of consciousness would understand according to its own current status of development wisdom and knowledge. The Prime Language has been one of the most valuable tools for the development of Prime Tech Theta Applications. Now our knowledge will be transfered beyond an organic stream of new generations and will be reached even after the current cultures, and new humanity, will be forgotten"- LDMF
" I have seen this Kanji 9 times  already! " – LDMF
The Primordial symbolic language, is a language based on the use of metaphors, images created through the use of principles, laws, cycles, rhythms of nature, the 9 elements, and nature itself. Images are made of words, sounds, geometry, stories, colors, numbers, or actions.
Story telling through the use primordial symbolic language give the story teller the possibility to communicate a multidimensional message in a simple and direct format. Listeners with a stage of development 4, for example will understand the meaning set by them, as level 4 meaning plus eventually also level 3,2,1 and zero. According to stage of development, perception and skill of listener or reader, the information communicated will vary. (REF: 9 Stages of development)
This kind of language let us communicate more, with a more efficient modality, also communicate with new generations or beyond cultures, that have interaction with nature, as we have, had and will have. Is a language beyond time, age and culture.
The LDMF Foundation has been gamified, therefor story telling and the use of Primordial Symbolic Language in all our publications. ( An exmple: Play the Game of the Gods! )
PSL: PSL — Primordial Symbolic Language, is a form of symbolic language that utilize nature laws, principles, cycles and rhythms;, knowledge on human stages of development (human factor), and nature inspired knowledge of ancient cultures and civilizations. In this case, PSL has been utilized for purpose of self-coaching, mentorship, in self-management, self-leadership field of work. This is one of the intents by the researcher to utilize PSL as it has been used traditionally by ancient civilizations. The PSL encoded language has a matrix 9+ field of meaning, Matrix-Q Language; the meaning need to be understood by approaching the message from several perspectives (matrix 9+, Matrix-Q) simultaneously. The researcher has developed experiments on PSL, Groundbreaking communication, PSL applied for self-management, strategic management, coaching, and published those e-books and articles. All of them available now at the e-library of the LDMF Foundation: http://e-library.luisdanielmaldonadofonken.info/e-books-directory/ PSL is utilized at several research fields, as it allows communication with cyphers, encoded language, and is being utilized by the researcher for the development of a A.I. Engine Programming Language.(Artificial Intelligence).